Handmade Giving: Blocks for Babies
Happy Monday, guys! Today's guest blogger is Stephanie May of MayDae. She is so fun and incredibly cool. She loves modern design and old things too. Stephanie is a professional finder of old things and has a great eye for making the not-so-wanted, wanted again. She sells it all in her Etsy shops: MayDae for vintage finds and Fibbie for vintage kids clothes. I hope you go check her out and enjoy her post!
Hi guys! I am so so so excited to be sharing this DIY gift with all of you today, and to be perfectly honest, I'm also a little nervous! All of the posts in this series have been so amazing – ohhhhh the pressure;) I wanted to keep my project nice and simple since there are less than 2 weeks left till Christmas (eeeek!), and if you're like me, you might need something easy to create at the last minute.
I chose my project because I've definitely got babies on the brain right now. Not for me of course – I have 3 kiddos of my own already, but I've also had a nephew and a niece born this year, and I've got ANOTHER niece that's coming any day now – exciting! I chose to make some hand painted wooden blocks as a gift for my 11-month-old nephew Kai, and I love how they turned out!
Learning Well LLC is a participant in the Amazon Services LLC Associates Program. As an Amazon Associate, I earn from qualifying purchases. Affiliate links from Amazon or other programs are used on this website. For more info, please refer to our disclosure statement.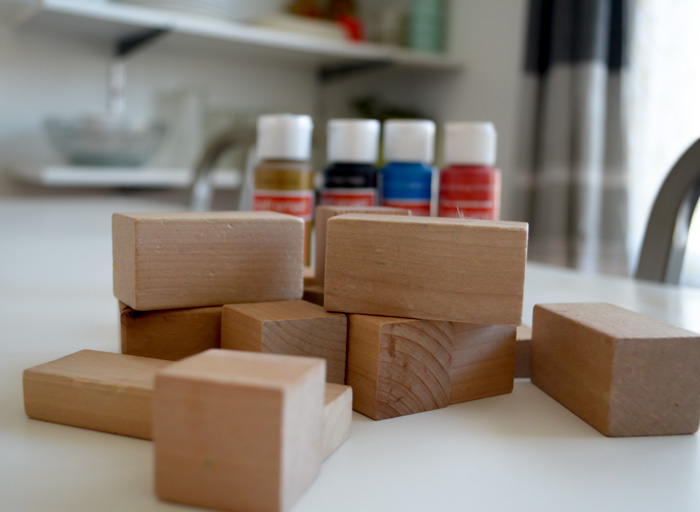 Here's what you'll need:
Get the 6 Secrets to a Simpler Mom Life
Plain toy blocks//Non-toxic water based paint (any colors you want)//Paint brush
Next, just paint simple designs on the blocks. You don't have to paint on every side, just however you want to do it is great. I used mostly black and gold paint to give them a modern feel. Use polka dots, zig zag patterns, stripes, hearts, geometric shapes, stars, letters, ect… ect… ect… Really, you could do just about anything that you know how to paint and there is no need for the designs to be "artistic" and they definitely don't need to be perfect!
So easy right?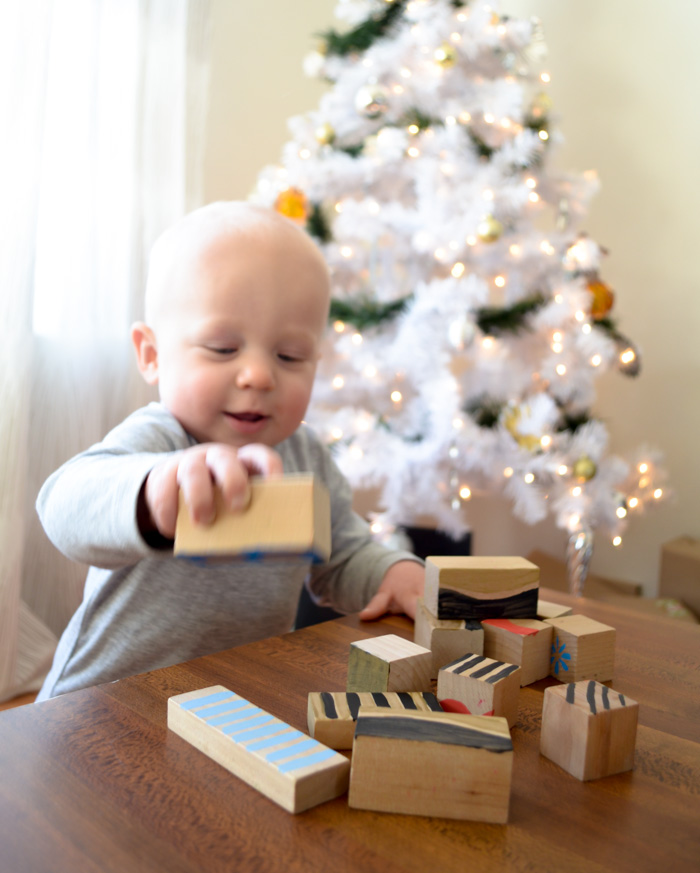 I know, I know – they are a Christmas gift for Kai….but I thought it couldn't hurt to let him try out the painted blocks for a few minutes before I wrap them;)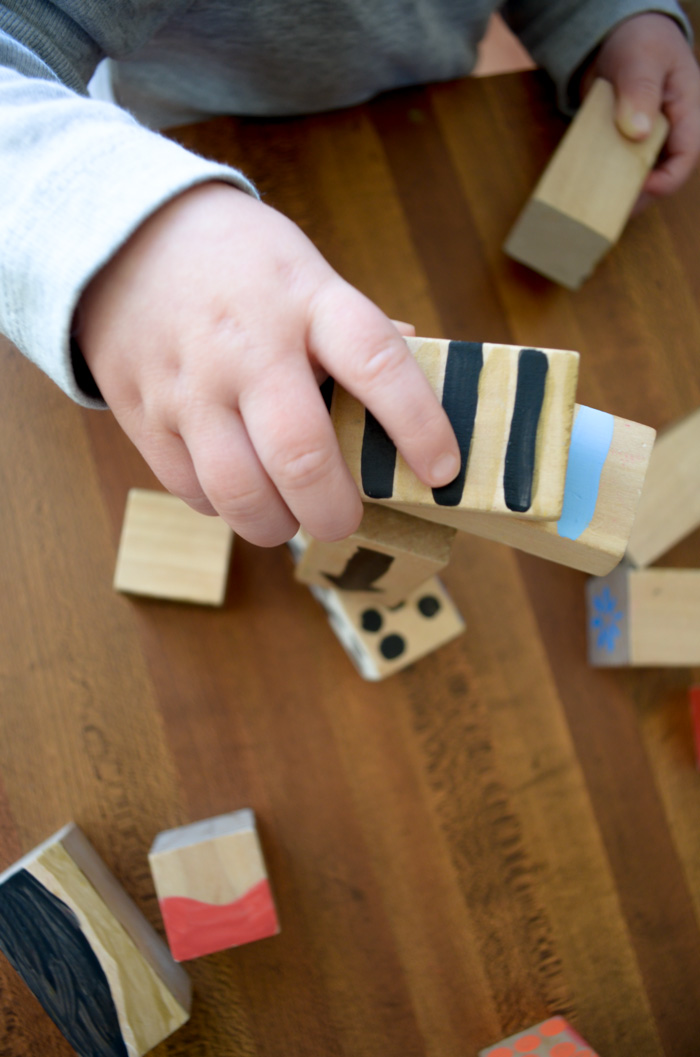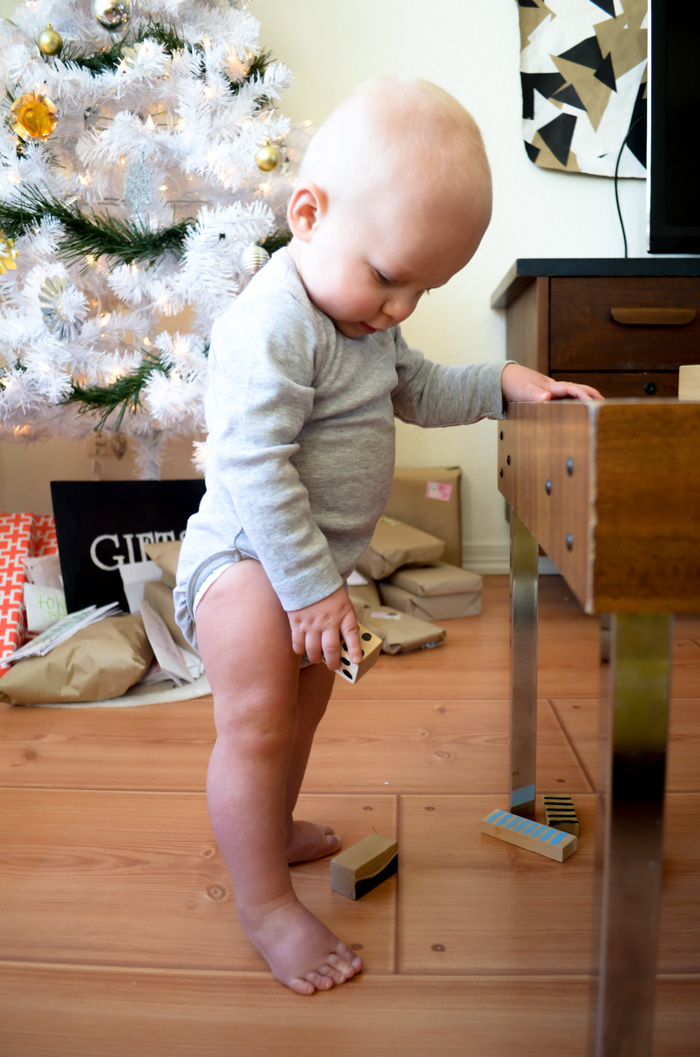 Kai LOVED playing with his new blocks, and he also loved dropping them on the floor one-by-one (side note – aren't little baby legs just the best? ♥ ).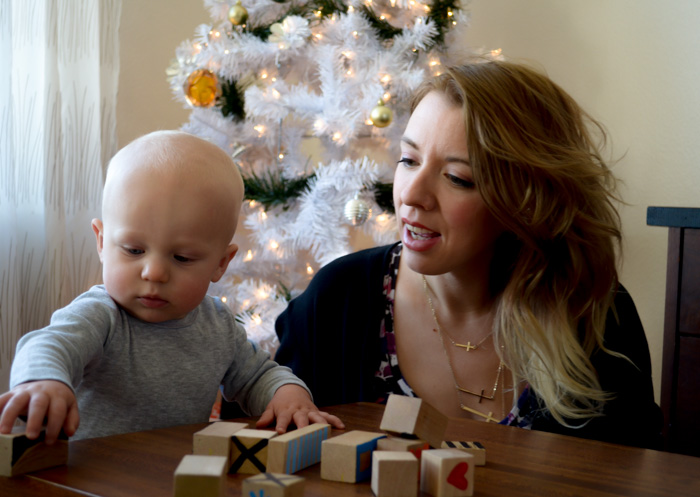 I'm so happy that I got to make Kai a special gift for his first Christmas – I hope that you all enjoyed it:) Thank you SO SO much to Alicia for having me as a guest blogger! I am so stinkin' honored to be invited to do this, and it has been so fun to get to know new bloggers as well. Thanks for the inspiration and ideas everyone! Merry Christmas! ♥