BOOKS OF 2014 + A NEW BOOK LIST FOR 2015
2014 was a pretty good "fun" reading year for me. I make a quick list of all the books I can remember reading…I feel like I forgot a few. I also included a list of books I want to read in 2015. I have no doubt this list will change, but I am pretty excited about getting started on it. Reading books like these are so great to escape with when it's snowy or right before bed. Reading has always been the perfect way for me to end the day.
Without further adieu, here's my book lists of 2014 and 2015:
Thank you for supporting this blog.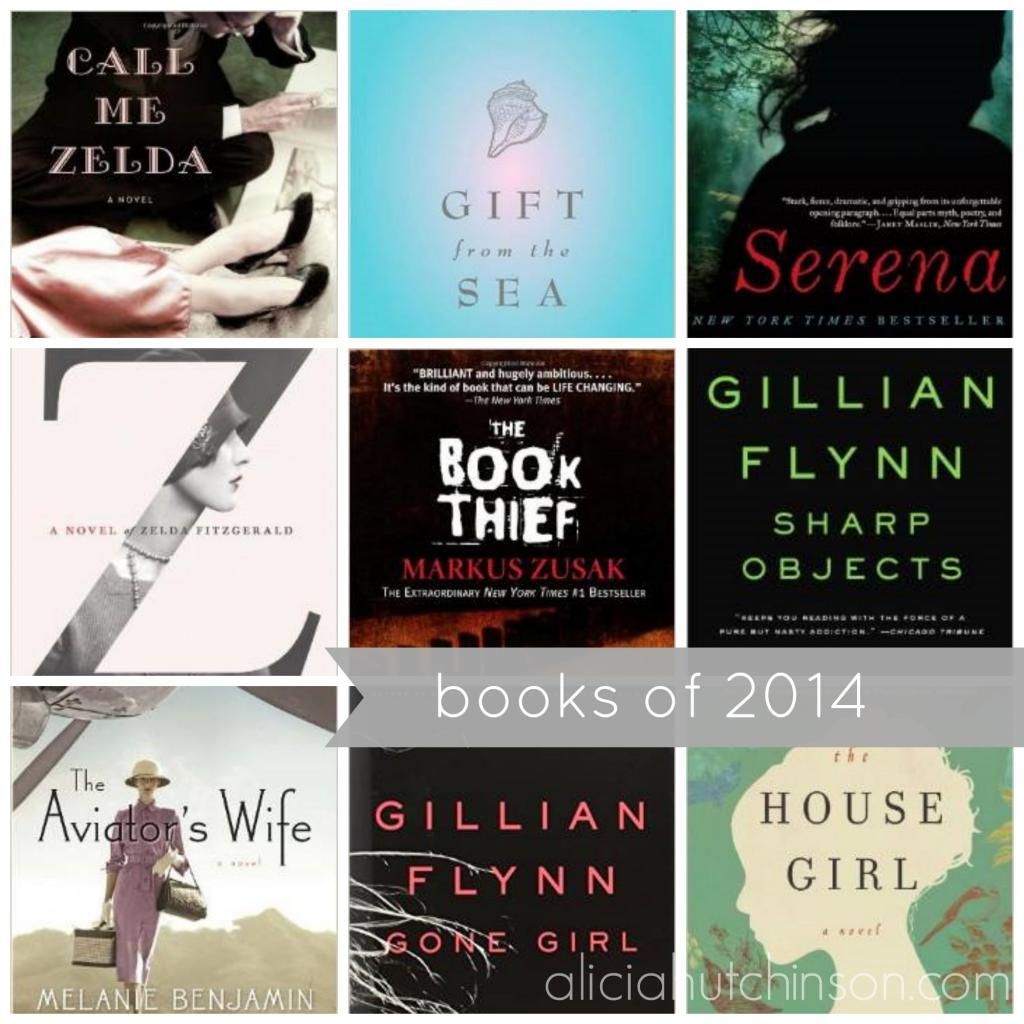 1. Z. A Novel of Zelda Fitzgerald by Therese Anne Fowler: I am obsessed with Zelda Fitzgerald. I think she is such an amazingly interesting person. I loved this novel told from her perspective.
2. The Aviator's Wife by Melanie Benjamin I loved this book. Anne Morrow Lindbergh is so intriguing. Between her marriage to the most popular man on the planet at the time, the kidnapping of their child, and her amazing writing, she has an incredible story to read.
3. The House Girl by Tara Conklin: This book was good. It was not my favorite of the year by any means, but it kept me interested. A slave girl working for a family, painting for her mistress, while the mistress got credit for her work. She runs to freedom to have a life for herself. It parallels a modern-day lawyer as well. I just was a little lost at the connection of the two.
4. Gone Girl by Gillian Flynn: Loved this crazy book. Tied with my favorite of the year.
5. The Book Thief by Markus Zusak: Other favorite of the year. The writing in this book was amazing!! So strange, but so captivating. I can't wait to watch the movie.
6. Sharp Edges by Gillian Flynn: Another twisty, turning Gillian Flynn book. Loved this one too, but not as much as Gone Girl.
7. Gift of the Sea by Anne Morrow Lindbergh: Loved this sweet book by Anne. I was inspired to read this after reading The Aviator's Wife.
8. Serena by Ron Rash: This was such a great book. I can't wait to watch Jennifer Lawrence play Serena this year. Extra interesting to me since it took place very near where I was living at the time in NC.
Now to my 2015 list…obviously I've never read any of these so I don't have much to say about them yet, but I will certainly let you know!!
Learning Well LLC is a participant in the Amazon Services LLC Associates Program. As an Amazon Associate, I earn from qualifying purchases. Affiliate links from Amazon or other programs are used on this website. For more info, please refer to our disclosure statement.
1. Fallen Beauty by Erika Robuck
2. Dark Places by Gillian Flynn
3. Still Alice by Lisa Genova
4. And Then There Were None by Agatha Christie
5. The Secret Keeper by Kate Morton
6. The Distant Hours by Kate Morton
7. Notes from a Blue Bike by Tsh Oxenreider
8. When the World Was Young by Elizabeth Gaffney
9. The Zookeeper's Wife by Diane Ackerman
10. Light Between Oceans by M.L. Stedman
11. Far from the Madding Crowd by Thomas Hardy
12. The Lost Wife by Alyson Richman
13. UPDATE: I had to add this one when I realized she had a new book! The King's Curse by Phillipa Gregory
What are you reading this year? Are there any from my 2015 list that you've read? What did you think? Any more I should add? SO many questions!!
Get the 6 Secrets to a Simpler Mom Life
It's freezing cold here in the Midwest today. Sounds like a great day to stay put, light a fire, and read. A lot.