How to Add Music Appreciation to Your Homeschool in Simple Ways
Music appreciation is one of those areas we would always LOVE to get around to, but for most of us, never find the time. We've been able to add a little music appreciation for homeschool in every now and again, but never anything consistent. Now, with my youngest just turning 7 and my older kids busy with their own things, I'm finding I have a little more to focus on Vera and her main interests. One of her biggest interests being–music!
Today I want to share with you about a resource for teaching music appreciation in your homeschool that you can fit in easily to your busy weeks.
SQUILT is a music appreication curriculum that offers tons of resources including monthly live classes. They offered to let Vera and I check out their service in exchange for an honest review and we couldn't wait to get started!
Learning Well LLC is a participant in the Amazon Services LLC Associates Program. As an Amazon Associate, I earn from qualifying purchases. Affiliate links from Amazon or other programs are used on this website. For more info, please refer to our disclosure statement.
This review is all about how we've been using SQUILT, easy ways you can add in music appreciation to your homeschool, and WHY it's a great idea to add in music to your days!
A Fabulous Resource to Teach Music Appreciation in your Homeschool
We just started using SQUILT LIVE! in our homeschool and we are loving it!
Get the 6 Secrets to a Simpler Mom Life
SQUILT stands for Super Quiet UnInterrupted Listening Time and their live classes are taught by Miss Mary, the founder. She has a love for music and creates lesson plans that are easy for any family to use.
Each lesson provides a variety of activities, so different types of learners can all participate.
The beauty of SQUILT is that YOU get to choose how involved to make it. Miss Mary gives all kinds of ideas, links, and extension ideas for each lesson and you can choose how much or how little to do with your kids.
If you're looking for Morning Time ideas, you can easily add SQUILT in with their listening calendars–a whole year of ideas and inspiration!
Why bring Music Appreciation into your Homeschool Days?
Music appreciation in your homeschool is one of those topics we might not feel really confident in. I have no idea how to play a violin!! HOW would I teach on that?!
There are tons of ways you can add in music appreciation without having any musical ability at all.
Add music to your unit studies. Are you doing a deep dive into a topic? There is bound to be a way to add music to it. If you're studying a period in history, find samples of the music from that time period and listen while you eat lunch.
Even science can bring in elements of music appreciation! There is music based on animals, different weather systems, and more! You could also do a science unit on hearing and ears and listen to tons of music!
Quiet time is another opportunity to add music to your days. We have a quiet time in our home nearly every afternoon. Many times, the kids will turn on music in their rooms. Have them turn on music from a different era, like Baroque or Modern, and just listen while they read or play.
How We're Using SQUILT
Our home right now includes a senior, an 8th grader, a 6th grader, and then little Vera, my 1st grader. The older kids have become very independent and are able to do so much of their school on their own.
I've always been noticing that this current season leaves many afternoons where the older kids are busy doing their activities, and it's just Vera and I. This leaves time for her and I to explore things she loves!
Having SQUILT for Vera to do just with me–or even on her own–has been so fun. She's learning to sit at the computer and be part of an online class in a safe environment.
Miss Mary helps the kids understand online chat etiquette and she is SO great with the kids watching live!
Vera loved that she was able to leave her answers in the chatbox and at the end of the lesson, her favorite part was the quiz! (Which she totally aced 😉 ) Miss Mary popped the questions up in a box and the students were able to click on their chosen answer and see if they were correct. It's a perfect way to end the lesson and I am LOVING watching Vera navigate a class like this on her own.
This is how we're using SQUILT in our homeschool, but WHAT do you get when you sign up for SQUILT?
What Do You Get With SQUILT?
Of course, you're going to want to know what comes with a SQUILT membership, right!? Here's the quick answer:
two live listening lessons per month
access to ALL lessons in the archives
a monthly listening calendar
members-only volume – SQUILT Goes to the Movies
20% discount on all products (This an awesome added bonus because there are TONS of additional products in the SQUILT store that make teaching music appreciation SUPER simple!
Here are some membership benefits happening right now!
Because of the way weekdays fell in the months of April and May, you actually get an additional month free if you join in the last week of April! You'll get to explore the lessons of Romeo & Juliet, the music of John Williams, and the music of Hans Zimmer.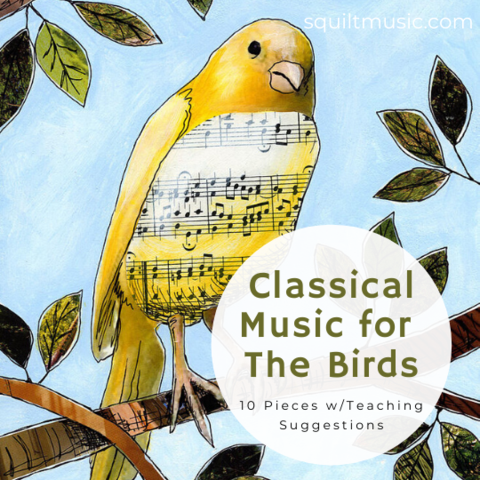 Access to the archives!
The archives are available for members and include super popular lessons about:
musicals
jazz
musical eras like Baroque, Classical, Romantic, and Modern
Coming soon with SQUILT!
Many kids will be excited about the lesson coming up in early May!
On May 4th, SQUILT will be having a live musical celebration of John Williams, the composer for the music of Star Wars! You'll learn about the music from Star Wars, as well as other music composed by Williams!
SO much excitement coming up in SQUILT this season and there are many ways to include music into your everyday, even when you don't have a SQUILT lesson going on, like BOOKS!
Books that Teach Music Appreciation
I absolutely love lining our bookshelves with books that teach kids about subjects in a gentle way. Teaching kids about music appreciation is so easy with great books!
Our favorites are The Story Orchestra series. Right now, the series includes:
Another series we love is the Great Musicians Series. These are such great read alouds–we love them! So many to choose from too.
Books and SQUILT live lessons are awesome, but let's talk about planning it all into our days.
The Planning Tool That's Helping Me Add in the Extras
Adding in fun into your homeschool day is a great way to lighten the emotional load in a challenging time. Don't be afraid to watch some documentaries, do art, play—whatever it is that brings your family joy—and count it as school!
Read more about this planning tool HERE!
If you want to read more on homeschool extras: